New Logo Contest
WANTED: Season #10 Anniversary Logo



2019-2020 will mark the 10th Season of WNY Girls Federation Hockey. To celebrate this we are holding an Anniversary Logo design contest.
In season #1 we had embroidered jersey patches made with our long time current logo.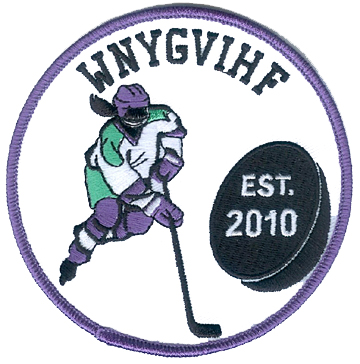 If you have some graphic art ability and you would like to submit a design we would love to see what you come up with. This is open to all current and former WNY Girls Fed Hockey Players.
It is not to be done by parents, siblings or friends. We want you young ladies to come up a special design using your talents.
The design that is chosen will be used on the Website and Social Media and we would like to have a new commemorative patch made up for each team's jerseys or team jackets. It could be used on a 10th Anniversary T-Shirt as well.
It needs to be simple as to look good in an oval, rectangular or circular patch approx 4" to 6" in Diameter.
You can do it using computer graphics but please don't use any trademarked or copyrighted material.
The design chosen will be announced during the Federation Final at the Harbor Center on February 24th. Maybe they can show the design on the video board.
The deadline for entries will be Feb 8th. If we have more than 5 we will select the best 3 and have a voter poll on social media asking for the public to choose. The 3 finalists will be shown without the name of the artist and school attended as to not make this a popularity contest but to be judged solely on what the public likes. Quality counts in case we only receive 1 or 2 entries. It doesn't guarantee your design will be picked. Colors, if possible, should be neutral so as not to resemble 1 particular team.
The winner will get their picture and bio published on our website at wnygirlshockey.com and NYHockeyOnline.com as well as others.
The website sponsor Chilly Billy's Ice Cream will donate a free ice cream truck party for up to 25 people as a prize. (Local area only-restrictions apply)
Please email your entries to bpavone@wnygirlshockey.com or turn into a coach to then be given to Bill Pavone. Please include contact info, school attended, computer software used and source of pre-made graphics if necessary.
Good luck!
---